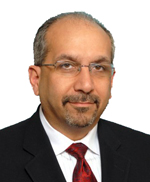 Oscar Michelen attended New York Law School and received his Juris Doctor degree in 1985. He graduated magna cum laude, finishing in the top 5% of his class. He served as an editor on the New York Law School Law Review. His experience in the practice of law also began during law school, first as a student law clerk to the Honorable Vincent J. Broderick, a Federal District Court Judge, and later as a student legal specialist in the Office of the Corporation Counsel, the law firm that represents The City of New York.
Upon graduation, he was hired as a trial attorney at the Corporation Counsel's Office. He was quickly promoted to Senior Trial Attorney in the Manhattan Trial unit and supervised and trained a number of other attorneys while continuing to try the more serious cases. In 1987, after being out of law school for less than two years, he was promoted to the position of Senior Trial Specialist in the Special Litigation Unit. He was the youngest lawyer and first Hispanic in the office's history to be given this prestigious position. In that unit, he was responsible for defending the City in the highest exposure, multimillion dollar lawsuits brought in all five boroughs and the surrounding counties. He held that position until 1990 when he joined the law firm of Sandback & Birnbaum. He became a partner in 1995 and the firm became Sandback, Birnbaum & Michelen.
In 2010, after 20 years of a successful practice at that firm, Mr. Michelen joined the firm of Cuomo LLC as Managing Attorney of a newly-established Long Island Office. At Cuomo LLC, Mr. Michelen brings his significant trial experience and record of success to develop several practice areas that are flourishing and continuing to grow. The Civil & Commercial Litigation Group represents corporations and individuals, as well as several governmental agencies and municipalities, in all manner of serious, civil lawsuits throughout the metropolitan area and the State. He recently founded an entertainment law practice that resulted from several high-profile clients coming to him for their litigation needs. He is also often retained on serious, newsworthy criminal defense cases.
As an off-shoot of  his entertainment and intellectual property practice, Mr. Michelen has become an important source for representation and guidance in the field of digital imagery litigation. Many businesses, small and large, that have been besieged with claim letters and lawsuits  from digital photo catalog giants like Getty Images, Corbis and Masterfile have turned to Mr. Michelen for defense of those claims.  He has represented companies in these claims all across the country.
Mr. Michelen is also often sought out for appearances on television and in print media discussing a variety of legal topics. He has been retained as an expert witness in litigation discussing various issues of  law. He is an adjunct professor of law at New York Law School, where he teaches Legal Writing and Appellate Advocacy.
Mr. Michelen is the founder of The Law Squad, a not-for profit organization that presents informational seminars to high school teens and their parents on various legal issues. He hosts a television program of the same name that airs on Public Television on Long Island.
Mr. Michelen is fluent in Spanish, having been born in the Dominican Republic. He lives with his wife and three sons on Long Island, New York.
====
NOTICE: Cold calls and cold emails asking for help are NOT welcome! Oscar gets too many requests for free help over private email. He cannot help you through private email. If you need help with your extortion letter, please read "Getting Help With Your Extortion Letter". If you want Oscar's help, you have to enroll into his Defense Letter Program. However, if you would like telephone consultation, consider enrolling in the ELI Support Call program. Thank you for understanding.