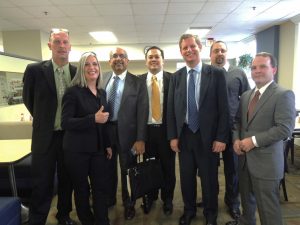 I am pleased to announce that after over two years of legal battle, on Friday, March 27, 2015, a unanimous decision by all seven Justices of the Georgia Supreme Court to overturn and entirely reverse the overbroad and unconstitutional Permanent (Lifetime) Protective Order (written by opposing attorney, Elizabeth W. McBride and signed March 6, 2013 by Judge Frank Jordan, Jr. of Muscogee County Superior Court).  That lower court ordered the complete and stunning removal of over 1,900 posts (written by dozens of ELI contributors) from the Linda Ellis/Linda Lyrics/Dash Poem Forum (effectively closing it) and forbade me from ever speaking or commenting about Linda Ellis (author of the famous "Dash" poem), her business, or her copyright enforcement scheme on ELI, my own website.
This legal fight that Ms. Ellis initiated began in February 2013 with the Muscogee County Superior Court then traveled to the Georgia Court of Appeals, and ultimately arrived in the Georgia Supreme Court, the highest court in Georgia.
The case began when Ms. Ellis falsely accused ELI (me, in particular) of "stalking" her. She inappropriately attributed every single negative posting anyone ever made about her and her business to me personally. She and Ms. McBride foolishly and incorrectly asserted that because I was the administrator of ELI, that I endorsed and approved each and every negative post anyone ever made about her, and that I was responsible for all of them, not just the ones I wrote. They wrongly asserted I personally engaged in "death threats", posted photos of her home, threatened her physical safety, and "stalking" her.
And yet, it was undisputed that I never emailed, text-messaged, faxed, snail-mailed, or ever posted on ANY of her websites or social media accounts. But because ELI contributors and I wrote negative and controversial opinions about her, her business, and copyright enforcement scheme and published publicly-available information about her on ELI (my own website), the lower court incorrectly concluded that I somehow "contacted" her. And yet, the only way Ms. Ellis could have ever seen anything we wrote was either she (or one of her associates) consistently, persistently, and repeatedly visited and read ELI.
It took all seven Justices of the Georgia Supreme Court to teach, inform, and instruct every Georgia court the legal definition of "contact" in the context of Internet speech and the Georgia stalking statute.
"[t]o 'contact' is readily understood by people of ordinary intelligence as meaning 'to get in touch with; communicate with" (citation and punctuation omitted)). Although one may "contact" another for the purposes of the statute by communicating with the other person through any medium, it nevertheless is essential that the communication be directed specifically to that other person, as opposed to a communication that is only directed generally to the public. Common and customary usage suggests as much…"
"That a communication is about a particular person does not mean necessarily that it is directed to that person."
As I have asserted for over two years, Ms. Ellis CHOSE to visit ELI and voluntarily read commentaries about her, her business, her poem, and her copyright enforcement scheme.
"The limited evidence in the record shows that Chan and others posted a lot of commentary to his website about Ellis, but it fails for the most part to show that the commentary was directed specifically to Ellis as opposed to the public. As written, most of the posts appear to speak to the public, not to Ellis in particular, even if they are about Ellis. And there is no evidence that Chan did anything to cause these posts to be delivered to Ellis or otherwise brought to her attention, notwithstanding that he may have reasonably anticipated that Ellis might come across the posts, just as any member of the Internet-using public might."
"To the extent that a few of the posts may come closer to "contact" — including, for instance, the open letter to Ellis… their publication still does not amount to stalking."
"the commentary about which Ellis complains was posted on Chan's website, and Ellis learned of that commentary — that is, it arguably was communicated to her — only as a result of her choice to discover the content of the website."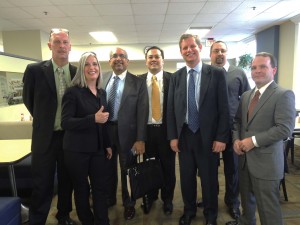 First, I want to thank the legal team. At the top of list is, of course, my friend, business associate, ELI legal advisor, and lead attorney for my case, Oscar Michelen. I also thank my Georgia attorney, William J. McKenney in Marietta, Georgia. I thank David Greene of the Electronic Frontier Foundation (EFF) in San Francisco, legal scholars Eugene Volokh and Aaron H. Caplan both from Los Angeles, and their Georgia lawyer, Darren Summerville in Atlanta, for lending their names, legal expertise and insights to my case. I also thank the UCLA First Amendment Amicus Brief Clinic for their contributions to EFF's amicus brief. I could not have accomplished such a complete legal victory without the expertise and generosity of each member of my legal team.
I also want to thank ELI Supporters: Robert Krausankas (Web Design of Palm Beach), Greg Troy, April Brown (author of the upcoming book, "Poetic Justice"), Joe Stangarone, and many other ELI contributors who preferred to remain unnamed and anonymous. They provided essential technical, operational, financial, and moral support to me for the entire journey. I am thankful and grateful to each and every one of them who I now consider personal friends. I also could not have completed the journey without the strong and very determined support from each of these smart, courageous, and resourceful individuals. They reminded me that my case not only affected me but it could potentially set a dangerous precedent for website owners, bloggers, copyright extortion victims, and Internet users everywhere.
Ironically enough, I also have to thank my legal adversaries: Linda Ellis, Elizabeth W. McBride, and Timothy B. McCormack for this (hopefully) once-in-a-lifetime experience. Their choices and decisions allowed all of this to be made possible. The education, learning, and professional and legal contacts all of us have gained (and continues today) have been priceless. They helped propel all of us associated with ELI to a much larger reach, influence, and audience than we could have achieved on our own. For that, I am gratified.
In conclusion, it is an understatement that I am gratified and feel vindicated by the outcome of this unanimous decision. It wasn't even a close call. Moving forward, there will be additional exclusive statements, announcements, reports, and updates released on ELI and Defiantly.net. So, please check back soon.
For now, I am taking a pause to reflect and enjoy the moment.